Three Common Questions About Coding And Marking
Squid Ink continues to expand our product line to offer more coding and marking solutions than ever before. Are you new to coding and marking equipment? If so, we have compiled a few of the most commonly asked questions to get you started.
What kind of information is typically printed on a product?
The huge benefit of using an inkjet printer or laser coding system is the versatility in what can be marked on your product. An inkjet printer can be used on various substrates such as porous, non-porous, smooth, textured, curved, concave, and more. However, the versatility doesn't stop there. Inkjet printers are great for printing product information, time and date codes, logos, barcodes, shift codes, serial numbers, and more. Laser printing systems can also permanently mark the coding of text, time and date, bar codes, logos, serial numbering, and more on several substrates, including paper, cardboard, plastic, ceramic, glass, and matte metals. Squid Ink's coding and marking equipment allow users to print the messages they want, when, and where they want it.
So why is coding and marking equipment so important?
Both laser coding systems and inkjet printers are essential for industries including pharmaceutical, nutraceutical, health and beauty, consumer goods, chemical, and other manufactured goods. One of the most common industries is the food and beverage industry. When looking for an inkjet printing system, it is important to look for high print quality.
Many of the codes on products in the food industry are expiration or sell by dates, and high-quality, legible print is crucial. If the code wears off or is not legible, stores and customers will not know when the food will expire. Worse, a spoiled product could be served to the customer, potentially compromising their health. These crucial codes also contain traceability information to help consumers know if their products have been involved in a safety recall.
Laser coders are an ideal alternative where inkjet systems are not practical, or are not the solution a customer wants. In addition, a laser coding system ensures that the mark will not fade or wear off. Squid Ink's SQ-Laser clean and eco-friendly coding systems can permanently code text, time and date, bar codes, serial numbers, and more.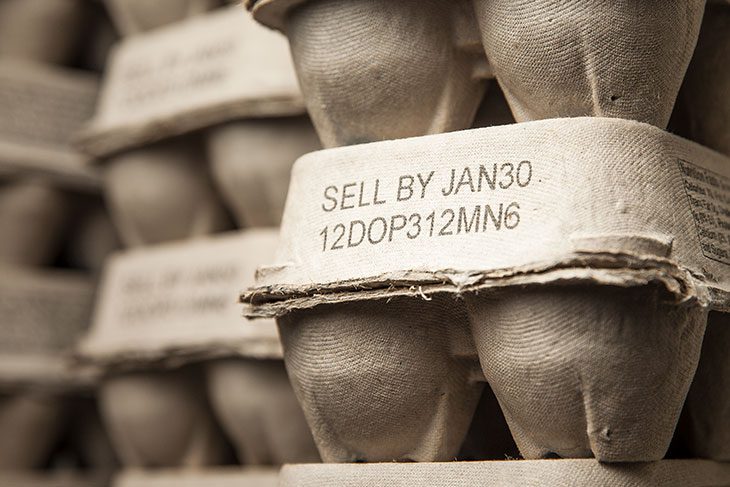 Inkjet Mark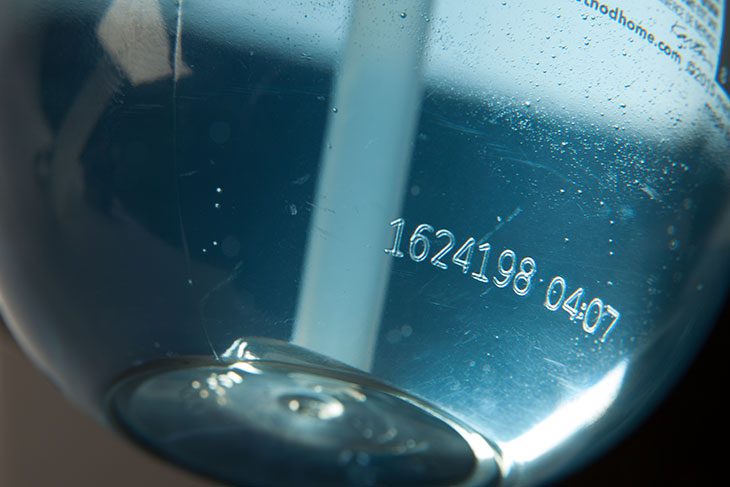 Laser Engraving Mark
Why choose inkjet printing over other solutions?
Inkjet printing has several advantages over other technologies, like thermal transfer labeling. Inkjet printing is non-contact, which means only the ink touches the products or packaging, and the product remains undamaged and stable. Inkjet prints directly on the product, eliminating costly labels from the equation. High speed and intermittent production can be used with inkjet printing making production lines efficient and accurate.
Inkjet printers utilize large volume ink cartridges. When an ink cartridge is depleted, the cartridge can be changed on the fly with no downtime, unlike thermal transfer label applications where the production line must stop for ribbon and label changes. Squid Ink's CoPilot Max 512i Turbo features a large 500ml snap-in cartridge, allowing users to swap ink cartridges in seconds. The generous ink volume, quick-change ink cartridge, and user-friendly touchscreen design allow users to keep their line running, reducing downtime and maximizing ROI.
Another great feature that inkjet printers offer are their versatility. When utilizing the system's touchscreen controller and industrial tablet, the user can customize the message they want to be printed. In addition, if part of the message needs to be changed, edits can occur on the production floor, cutting downtime and allowing greater flexibility, something not available with pre-printed labels.
As you can see, coding and marking equipment is crucial to product safety and traceability while helping companies increase their ROI. It's no wonder that Squid Ink's coding and marking equipment helps companies deliver their products to the world.
Do you want to learn more about coding and marking equipment? Visit our product pages and view our full selection of equipment to find the right solution for your coding and marking needs.