Inkjet Printers vs Preprinted Labels
When a label is printed or placed onto a product, it must stay on for the manufacturer and customer to see. Without a legible bar code, serial number, logo, or identification number, the product could be lost or be placed where it shouldn't be, and traceability could be a concern. In this blog, we will talk about printing directly onto the product versus using a preprinted label, as well as the advantages of direct printing.
Direct package printing: what is inkjet printing?
Inkjet printing can be loosely defined as propelling droplets of ink onto a substrate (the product printed on) in a specific pattern without touching the object's surface. This technology allows for a wide variety of substrates to be printed on – porous, non-porous, smooth, textured, curved, concave, and more.
There are several advantages of inkjet printing over other technologies. Inkjet printing is non-contact, which means only the ink touches the products or packaging, and the product remains undamaged and stable. High speed and intermittent production can be used with inkjet printing making production lines efficient and accurate.
Non-direct packaging printing: what is a preprinted label?
A preprinted label is a lot like a sticker that is applied to the product or case. First, the information and graphics are printed onto the label, and then the label is applied to the product. These labels are often hand applied, or if there is larger production demand, label applicators can be purchased to apply the labels automatically.
Inkjet printers vs. preprinted labels
One of the big takeaways when comparing inkjet printers to preprinted or thermal transfer labels is the cost. Factoring in the cost of the label and thermal transfer ribbons, inkjet printing is typically a tenth of the cost of a label. The cost of manual labor is also a factor to consider when deciding between labeling or inkjet printing. If you don't have automatic labelers, then extra time and money will have to be used to apply the labels manually.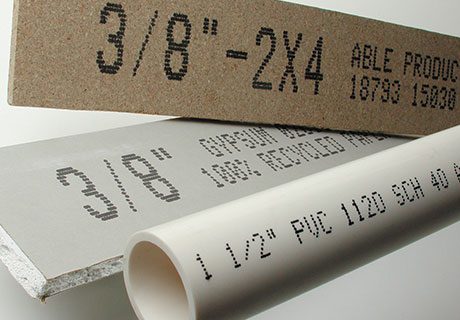 Print direct to product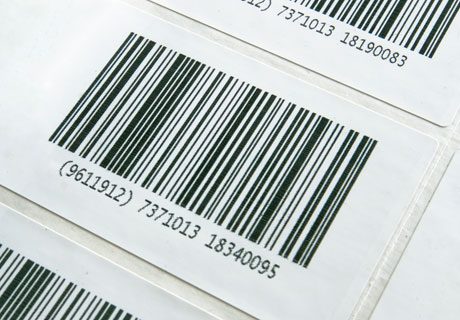 Preprinted adhsive labels
Additionally, label machines typically experience more downtime than inkjet printers. When the labeler runs out of labels or ribbons, the production line must stop for a refill. If a large quantity of product needs to go out, this may require multiple stops throughout the day.
Inkjet printers utilize ink cartridges. When an ink cartridge is depleted, the cartridge can be changed on the fly with no downtime. Squid Ink's CoPilot Max 512i Turbo features a large 500ml snap-in cartridge, allowing users to swap ink cartridges in a matter of seconds. The generous ink volume, quick-change ink cartridge, and user-friendly touchscreen design allow users to keep their line running, reducing downtime and maximizing ROI.
Another great feature that inkjet printers have is their versatility. When utilizing the system's touchscreen controller and industrial tablet, the user can customize the message that they want to be printed. If part of the message needs to be changed, edits can occur on the production floor, cutting downtime and allowing more greater flexibility, something not available with pre-printed labels.
Overall, inkjet printers will give you a quality mark for a fraction of the price. In addition, you will have peace of mind knowing that the mark has been made directly on the product. An inkjet printer also provides a cost-effective solution for making your mark on various products and substrates.
To learn more about the inkjet printing technologies that Squid Ink offers, visit our product pages and view our full selection of equipment to help you print your products!