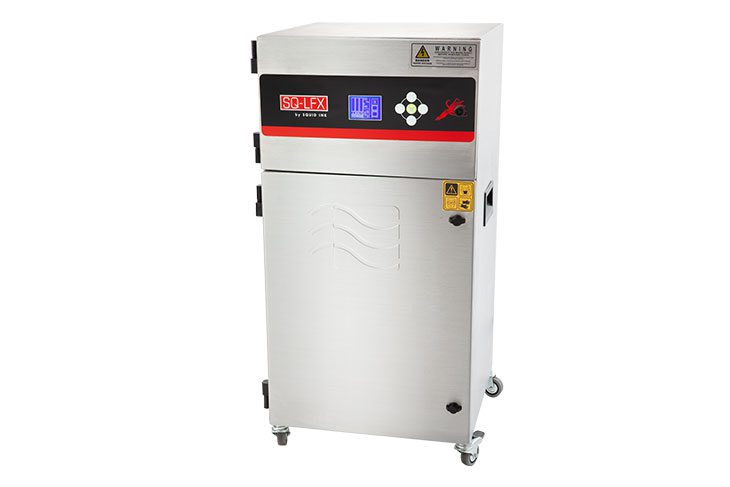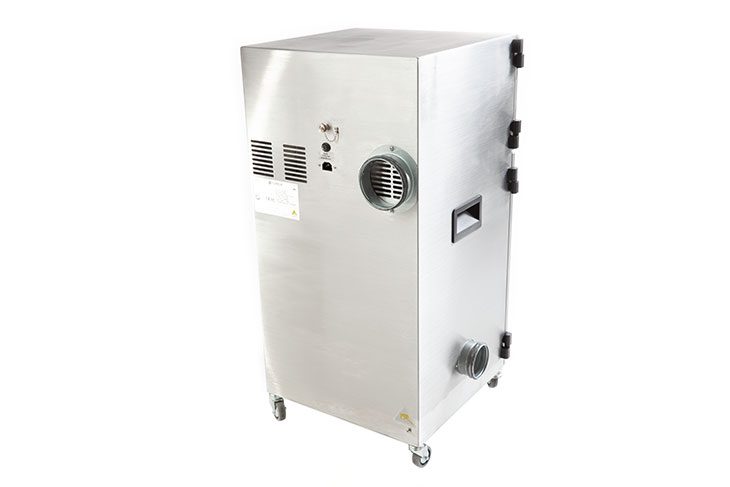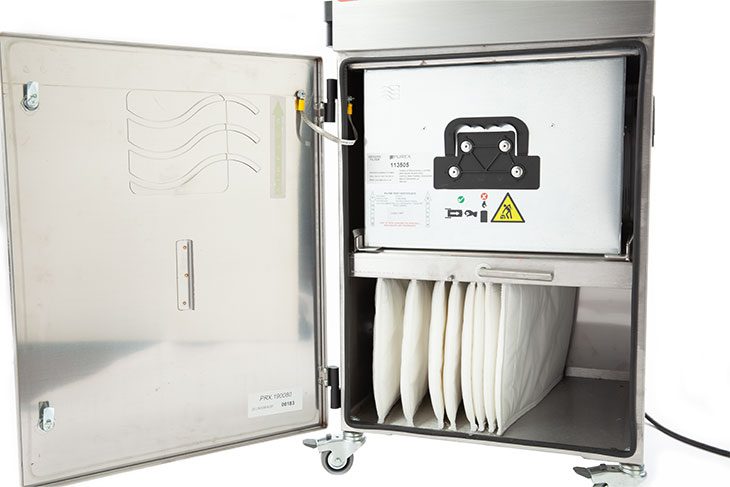 SQ-LFX
Laser Fume Extraction System
Automatic electronic flow control – maintains a constant extraction rate even as the filter becomes blocked
Adjustable airflow
Clear and informative graphic display
Gas and particle sensors on the exhaust
Low capital and running costs
Squid Ink's SQ-LFX Laser Fume Extraction System pairs with Squid Ink's laser marking systems and is designed to exceed the fume extraction demands of your laser marking application. Manufactured by industry leader Purex™ for Squid Ink, the SQ-LFX fume extractor is one of the most technically advanced compact laser fume extractors on the market.
Intelligent Operation with IQ
The SQ-LFX has been enhanced with the highest grade HEPA and carbon filter technology and packs a powerful range of unique features into one compact unit. The informative graphic display gives operators a clear view of the operation to provide a quick-read visual display of how the system is functioning. For further insight into your operation, the system provides a cache of analytical data, enabling users to view performance and operating parameters for evaluation purposes.
Performance With Safety In Mind
The SQ-LFX design features keep your air filtration system running at peak performance levels while reducing your maintenance downtime. Automatic Flow Control technology maintains a constant extraction rate that ensures the safe capture and removal of hazardous fumes by balancing the system's airflow rates with the type, depth, and surface area of SQ-LFX's carbon filters. To increase your filter life, the unit is designed with Adjustable Air Flow that allows the system to be easily adjusted for various applications. SQ-LFX was also designed with Reverse Air Flow to prevent condensation while prolonging filter life.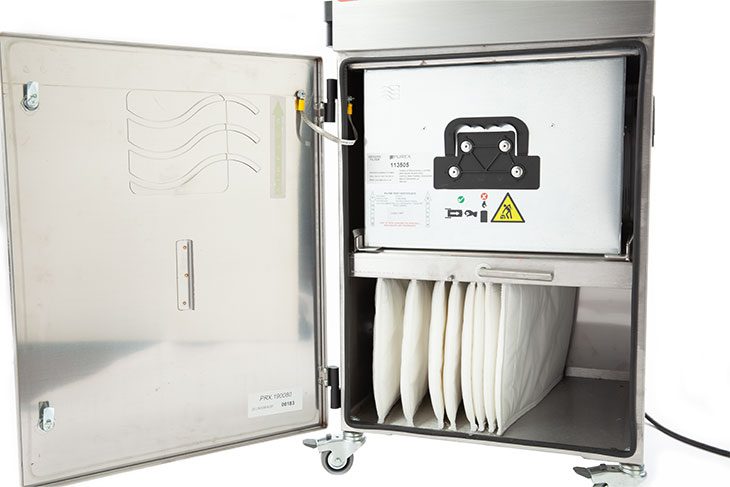 Large cabinet door completely opens for operator monitoring and easy filter changes.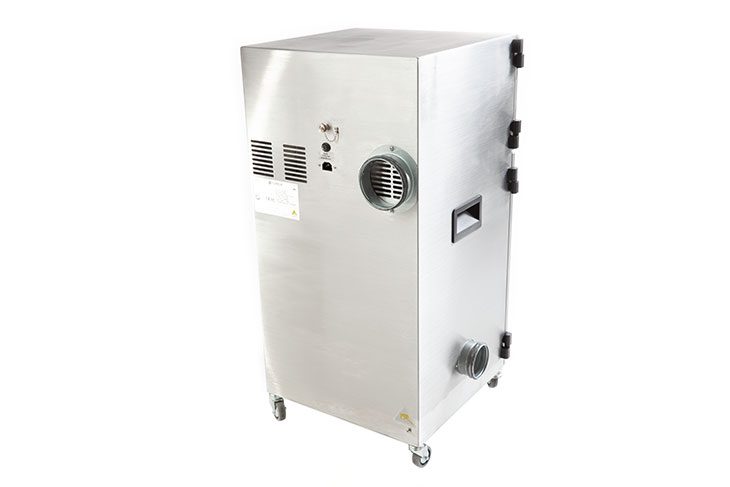 Connections for air hose and laser interlock are located on back of cabinet.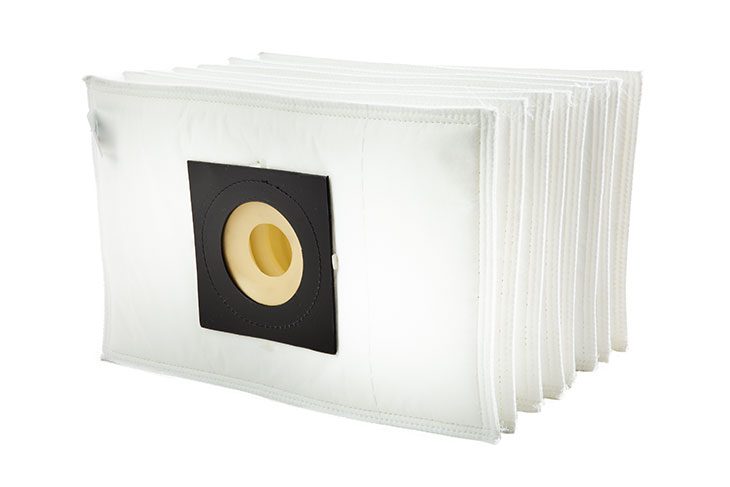 Labyrinth pre-filter helps catch larger particles to extend life of main HEPA/Chemical Filter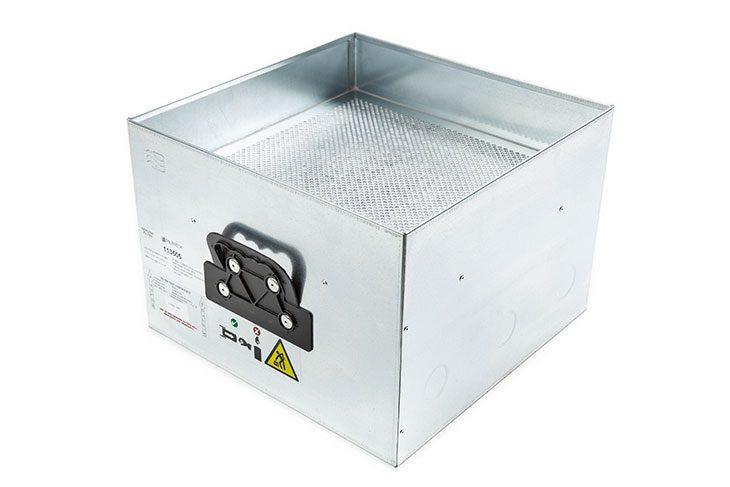 HEPA/Chemical Main Filter filters small particles down to 99.997% at 0.3 microns in size
BENEFITS OF THE SQ-LFX
Automatic electronic flow control – maintains a constant extraction rate even as the filter becomes blocked
Adjustable airflow
Clear and informative graphic display
Gas and particle sensors on the exhaust
Low capital and running costs
Quick change patented Labyrinth pre-filters deliver longer filter life
Submicronic (HEPA) filtration removes 99.997% of particles down to 0.3 microns
Activated carbon filtration removes harmful gas
Simple to install and quiet in operation
Easy to relocate and precision made from stainless steel
High performance brushless motors
TECHNICAL SPECIFICATIONS
Voltage – 120V
Wattage – 1.2KW
Frequency – 50Hz /60Hz
Cabinet Height – 34.8" (885mm)
Cabinet Width – 17.9" (455mm)
Cabinet Depth – 20.4" (517mm)
Cabinet Weight – 110lbs (50kg)
Sound Level – <60dBa
Airflow – 330m3/h
LABYRINTH PRE FILTER
Extends the life of the main filter by capturing larger particles before they reach the HEPA filter
Fits neatly under the main filter in integral Purex extractors
Graduated fiber matrix delivers excellent particle capture capacity – up to 20 times more than a standard filter
Ideal for medium-high volume applications
Contains the particles inside for clean and simple disposal
Composite material available for extra filter life and filtration down to 0.5 micron
Standard captures particles to 3 micron at efficiency of 60 to 80%
Composite captures particles to 1 micron at efficiency of 80 – 95%
HEPA/CHEMICAL MAIN FILTER
HEPA (high efficiency particulate air) filter elements are precision manufactured from a pleated material that incorporates reinforcing strips which separate the pleats and help prevent airflow vibration or collapse
Equalization plates are used between the layers of media to further reinforce the filter housing and to distribute the airflow across the filter to ensure all of the filter media is used
Filters small particles down to 99.997% at 0.3 microns in size and absorbs a wide variety of gases and vapors
Looking for Replacement Ink Jet Inks and Fluids?