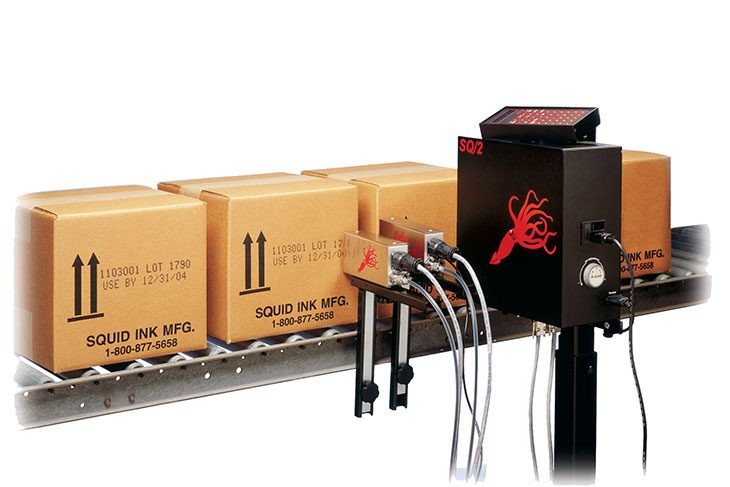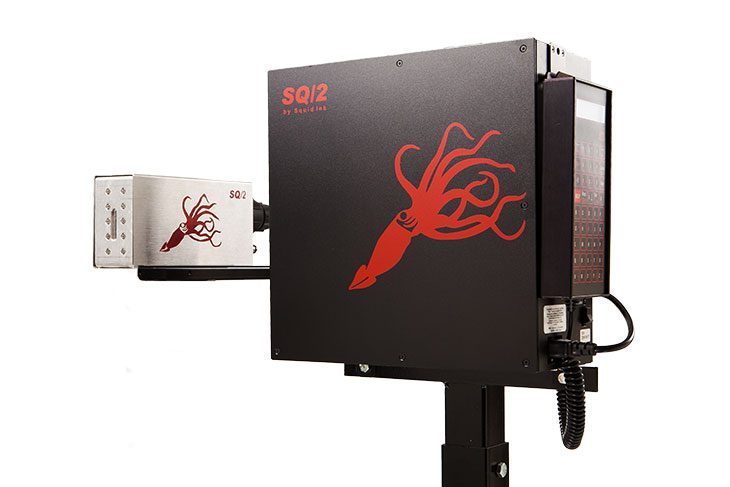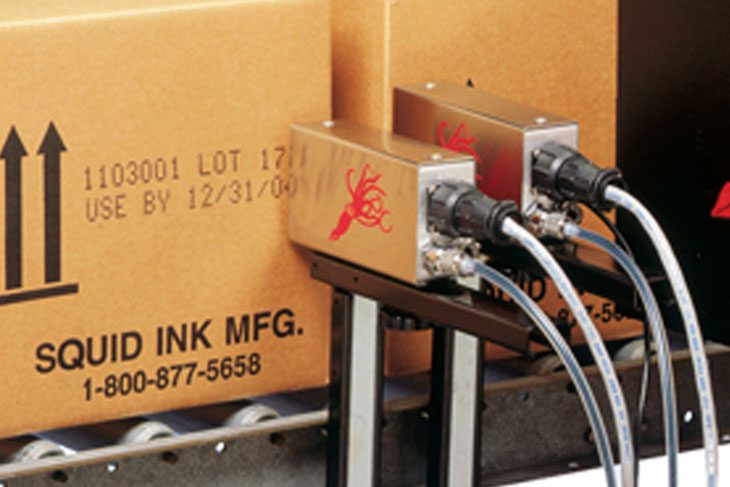 SQ/2
Large Character Printing System
Run one or two print heads from the same controller
Easy-to-use software walks you through a series of prompts to program and save messages for printing
Simple to operate, virtually maintenance-free, and field upgradeable with modular components and options
Two models: water-based for porous surfaces or solvent-based for non-porous surfaces
The SQ/2 large character ink jet system prints high quality dot-matrix characters on a variety of products at a cost-effective price. The SQ/2 offers the lowest price per printed character in the industry today. Users can choose between two models: a water-based model for printing on porous surfaces like corrugated cartons, or as a solvent-based system for printing on non-porous product like plastics, stretch wraps, metals and more.
SQ/2 users also have the option of choosing from several printhead configurations. Three different print sizes are available: 3/4", 1/2", or 3/8" character height. All printheads are capable of printing both a 7 x 5 and 5 x 5 character matrix, offering print sizes ranging from 1/4"″to 3/4" in height. Users also have the flexibility to run one or two printheads at any time. All of these components are field-installable for future upgrade to meet your application's changing requirements.
The SQ/2 was engineered inside and out for industrial strength operation. Heavy-duty gauge coated steel cabinetry ensures continuous operation in harsh, real world environments. If the printer does fail, a fix can be completed in less than five minutes. Quick and easy-to-install replacement printheads, PC cards and air pump modules minimize downtime and eliminate costly service calls. Best of all, the water-based SQ/2 utilizes Squid Ink's patented SQ-60™ no-clog ink, allowing users to leave the ink in their printheads for an extended period of time without flushing or cleaning, making it the most cost-effective, low maintenance ink jet printing system available today.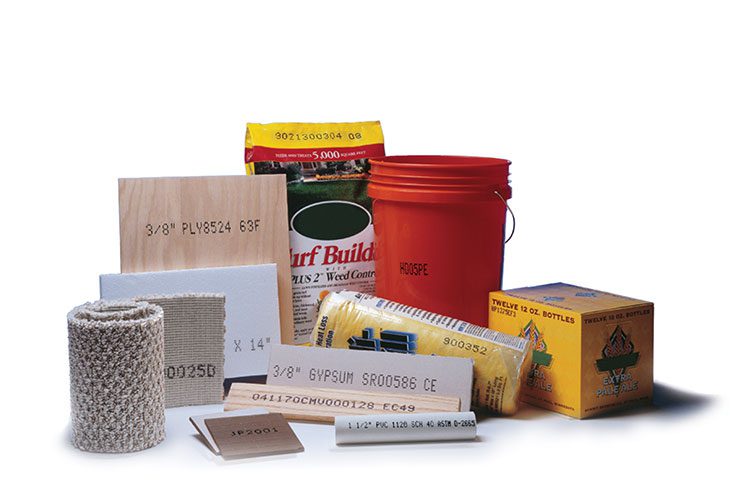 The SQ/2 utilizes water-based or solvent-based inks for printing on a wide range of porous and non-porous surfaces.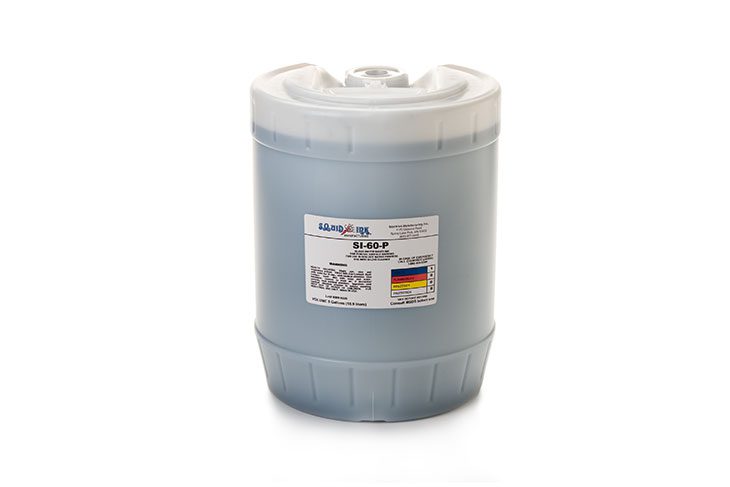 Squid Ink's patented SQ-60™ no-clog ink allows users to leave ink in their printhead without having to flush their system.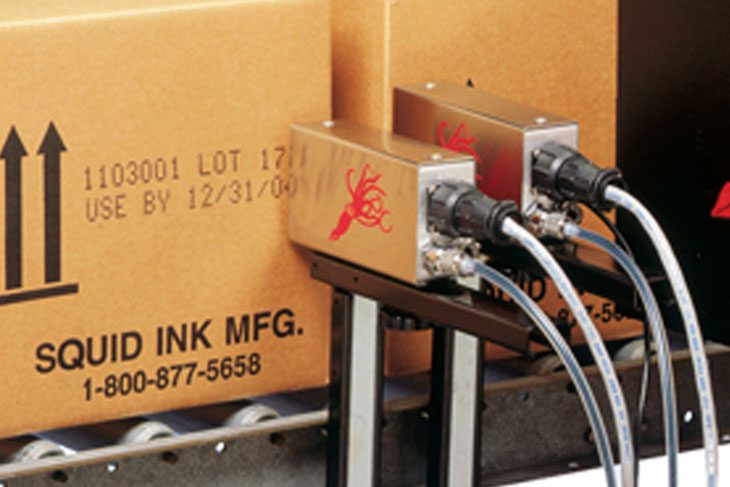 Run one or two printheads; select from three different printhead sizes; all components are field-installable.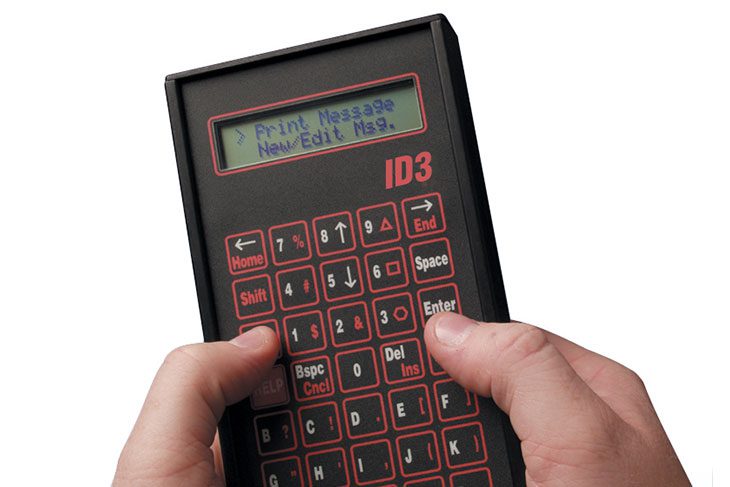 An industrial-strength input device provides quick and easy message programming.
BENEFITS OF THE SQ/2
Run one or two print heads from the same controller
Easy-to-use software walks you through a series of prompts to program and save messages for printing
Simple to operate, virtually maintenance-free, and field upgradeable with modular components and options
Two models: water-based for porous surfaces or solvent-based for non-porous surfaces
Industrial strength hand-held input device for easy message input
Ability to run two print heads, allows printing on one or two sides of the product
SYSTEM SPECIFICATIONS
Printer Type – Large character ink jet printer
Character Height – .75" (1.9cm) in 7 x 5 matrix; .5" (1.3cm) in 5 x 5 matrix, or .5" (1.3cm) in 7 x 5 matrix; .375" (1cm) in 5 x 5 matrix, or .375" (1cm) in 7 x 5 matrix; .25"( .6cm) in 5 x 5 matrix
Character Set – 61 character ASCII set
Print Speed – 20 feet/minute (6.1m/minute) to 200 feet/minute (61m/minute) line speed; optional extended character width firmware allows for print speeds slower than 20 feet/minute
Message Length – 60 characters per message; 64 memory locations
Communication – RS-232C, 9600 baud, 8 data bits, 1 start, 1 stop, Asynch
Software Features – 24-hour clock, Julian date, counter, lot counter
Operating Features – Dot size, print delay, character width, photocell on/off, invert print, reverse print, purge routine
Controller Dimensions – 12" (31cm) H x 12" (31cm) W x 5.25" (13cm) D
Controller Weight – 10.5 lbs. (4.8kg)
Printhead Dimensions – 3" (7.6cm) H x 1.6" (4.1cm) W x 7"(17.8cm) L; dimensions are for the printhead only – an additional 3" (7.6cm) is needed for the ink line and cabling which extends from the back of the printhead
Product Sensor – Diffuse beam photocell (24v) or hardware sinkingsignal
Electrical Requirements – 100 – 240 VAC, 50-60 Hz, 1.0 amp
Cabinet Construction – Industrial gauge coated steel
Substrate Capabilities – Porous or Non-Porous surfaces
Air Requirements – No external air needed
Ink Capabilities – Porous: Squid Ink SQ-60™ no-clog ink
Ink Volume – .5 (1.89 liters) gallon bottle standard; available upgrade (water-base ink only) to 5.0gallon pail (18.93 liters)
OPTIONAL ACCESSORIES
Spare Parts Kit – Includes spare printhead, card cage and PC board pack, air pump module, data cable and master cap
Starter Kit – Includes ink, cleaner for flushing the system, spray bottle for cleaner, hand cleaner and lint-free wipes for the printhead
5-Gallon Pail Upgrade – Upgrades ink supply to 5.0 gallons (water-base ink only)
PC Software – Communications software for PC integration
Repeat Print Firmware – Allows continuous printing of messages
Extended Character Firmware – Allows for print speeds slower than 20 feet/minute
Rollaway Stand – Provides mount for the SQ/2 controller, designed with caster wheels for transportation within plant
Looking for Replacement Ink Jet Inks and Fluids?