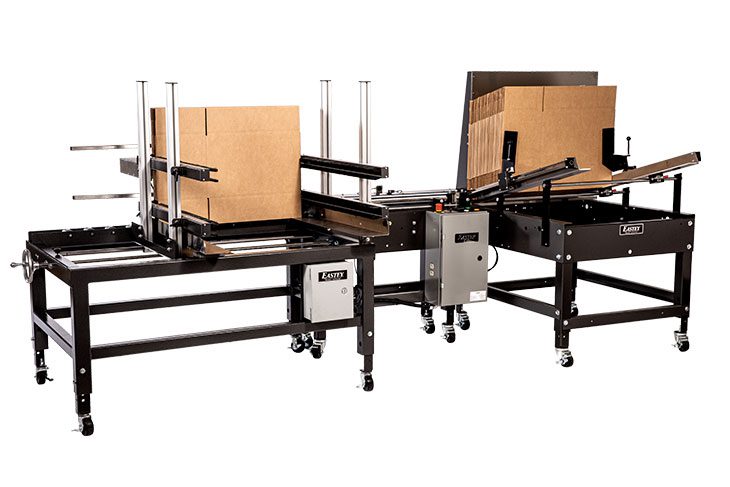 Vertical Case Transport System (VCTS)
Eastey's Vertical Case Transport System allows users to print on two or four adjacent sides of a case eliminating the need for pre-printed cases or expensive labeling equipment and supplies. Adjustable width settings on our standard VCTS allow users to print on cases ranging in size from 10" x 10" up to 33" x 29". A larger VCTS -XL allows cases from 10" x 10" up to 48" x 29".
Designed for off-line case printing, the VCTS automatically feeds blank cases through a print station that is ideal for mounting hi- resolution inkjet printers and offers the ability to print virtually anywhere on either side of the case. Open access to printheads allows for easy maintenance and quick adjustments. The VCTS features an input hopper that has a capacity of up to 75 flat single wall RSC; up to 3⁄4 magazine capacity and can easily be reloaded by one person.
The VCTS includes a programmable counter that keeps track of batch quantities, rate of operation, and elapsed run time, allowing users the ability to customize case runs. The system can be easily programmed to shut down when the maximum count is reached. The VCTS batch counter is the ideal solution for users looking to print a message on specific number of cases while eliminating the need for.
Convenient Case Collection
Eastey's exit hopper collection bin is a convenient way to collect cases fed through the VCTS. The exit hopper is adjustable to accommodate the available box sizes in both the VCTS standard and VCTS-XL models. The collection bin conve-niently collects up to 75 flat single wall RSCs and keeps them stored upright until they can be transported to another area. Vertical Case Transport Systems can be ordered with an exit hopper, one can be added at a later day, or a collection bin can be ordered as an option and integrated with previous VCTS systems.
Increased Inventory Space
Eastey's VCTS is an ideal option for users who are looking to increase storage space by eliminating pre-printed case inventories. Equipped with casters, the VCTS can be easily moved throughout the plant to accommodate your various printing needs.
Eliminate the high costs associated with pre-printed cases by printing product specific information directly onto blank cases. Any way you look at it, Eastey's VCTS provides users with an affordable solution to meet your case printing needs.
Rugged design. Proven reliability. Simple operation. Your benefits go on and on. When it comes to industrial operation, rely on Eastey to provide the right solution for your case transport needs.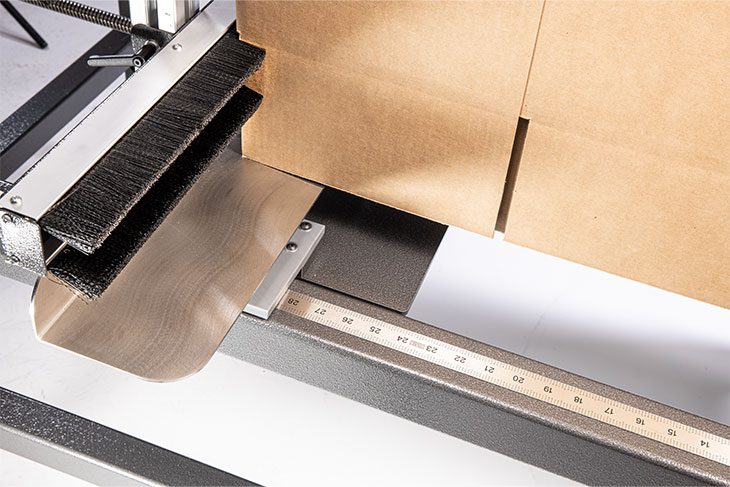 Adjustable collector bin with ruler to easily switch between different width cases.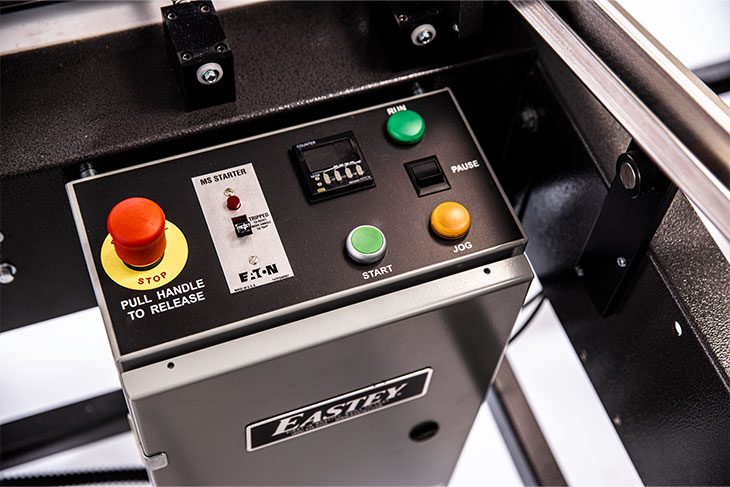 Simple and rugged control interface for easy operation.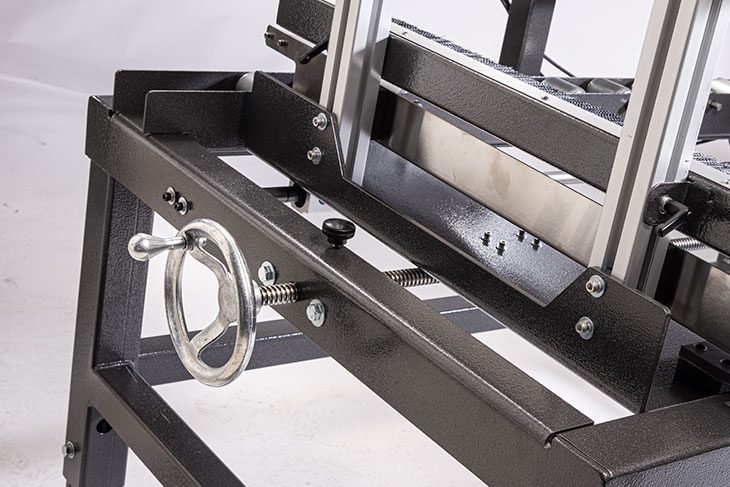 Hand crank wheel easily adjusts width of collector bin.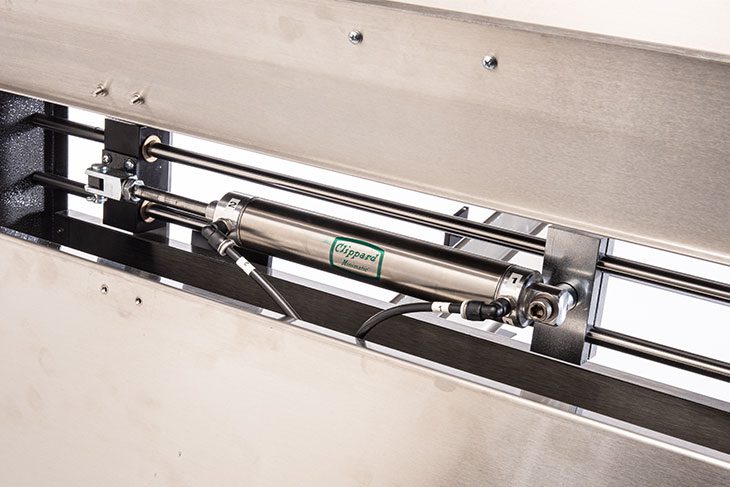 Pneumatic pusher arm can be adjusted for different width cases.
VCTS FEATURES
Plug-in and go operation
Fast and easy box size changes
Powder coated 12 gauge steel
Low maintenance and easy to use
Industrial strength side belts
Accommodates wide range of box sizes
Easy to load input hopper
Optional exit hopper for easy case collection
Adjustable leg extensions
Simple integration with ink jet printers
Heavy duty locking casters
VCTS SPECIFICATIONS
Machinery Makeup – Industrial strength 12 gauge steel, powder coated for durability
Belt Speed – 72 feet/per minute (approx. 40 – 10" x 10" cases/min); throughput determined by box length
Input Hopper – Capacity of up to 90 flat single wall cases
Input Hopper Adjustments – Standard Model VCTS 10" to 33" width, VCTS-XL 10" to 48" width
Programable Counter – Designed for batch operations, rate metering, and elapsed counting
Casters – Attached to each section for transport throughout the plant
Electrical Requirements – 110 VAC, 60Hz, 4.0A
Box Requirements – Single wall RSC only, minimum C flute; no trays or cartons; no square cases (ie. 10 x 10, 14 x 14, etc.)
Air Requirements – 80 PSI, 1/4" NPT Fitting
Box Specs
Minimum Box Size – 10.0" (Width) (Standard Model & VCTS-XL) x 10″ (Height)
Maximum Box Size – 33.0" (Width) (Standard Model) 48" (Width) (VCTS-XL) x 29″ (Height)
OPTIONAL ACCESSORIES
Ink Jet Printing System – Hi-resolution printing system capable of printing bar codes, graphics and text
Exit Hopper – Added to existing Vertical Case Transport Systems for easy case collection