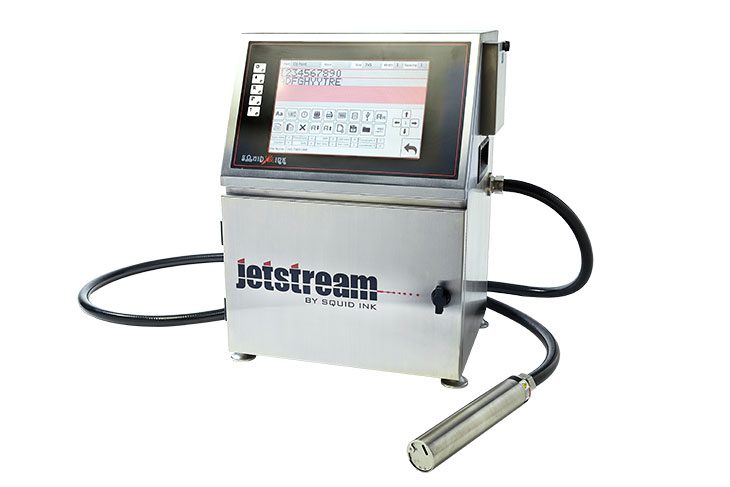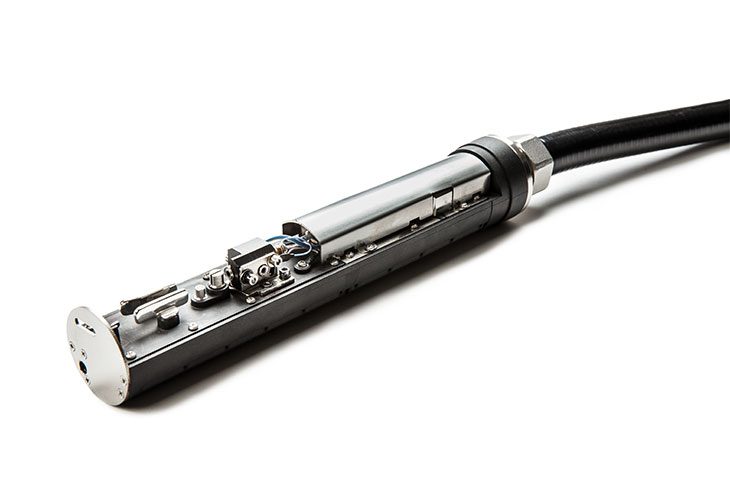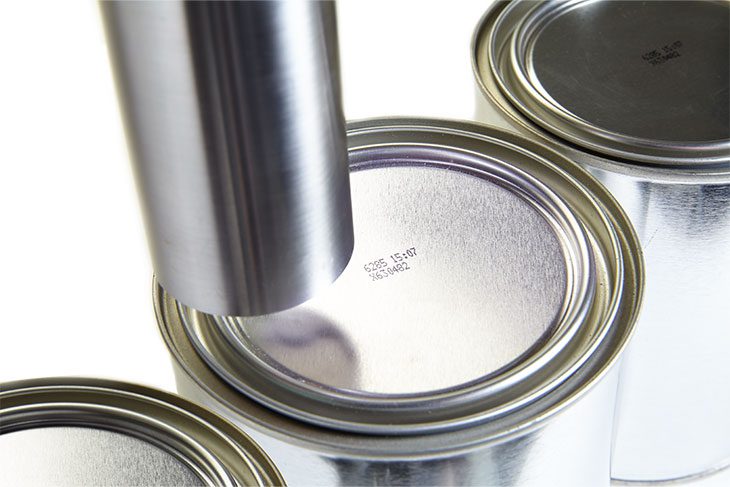 JetStream
Small Character Printing System
Up to 5 lines of print
Line speeds up to 1000 ft/min
Simple to use 10.1" color touchscreen interface
Squid Ink's JetStream™ CIJ printing system is designed to print superior quality small characters on a variety of substrates: porous, non-porous, smooth, textured, curved, concave and more. Printing up to 5 lines of text, the JetStream offers a reliable, yet cost effective solution for virtually any small character, primary product coding application.
Designed to Increase Productivity
JetStream offers users the latest in today's technology. The system's simple to use 10.1" color touchscreen interface features a number of options to help users make their mark on a variety of products while streamlining their coding operation. JetStream's intuitive software allows users to print database messages straight from a USB drive, allowing users to print messages with variable database information. Users also have the option of selecting up to 16 quick-load messages for lines that require quick message changeover. For messages with graphic elements, JetStream's onboard software lets users make changes to graphics by utilizing the systems on-board graphic editor. With JetStream's intelligent system software, you can print what you want, when you want it.
The JetStream is designed with the low maintenance features that users have come to rely on from Squid Ink. JetStream's self-cleaning printhead with CleanJet™ maintenance routine allows quick and easy automatic start-up and shutdown. A simple press of a button commands the printer to go through a start-up cycle or flush the system for shutdown. When routine maintenance is required, components can be swapped out within minutes eliminating the need to purchase expensive filter and pump assemblies or schedule costly service calls. In addition, annual PMs can be made in minutes simply by swapping the entire ink system with an affordably priced refurbished system.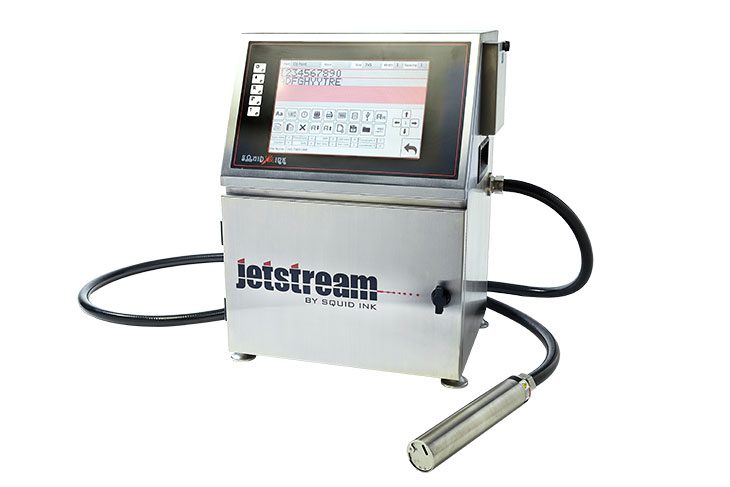 The system's simple to use 10.1" color touchscreen interface features a number of options to help users make their mark.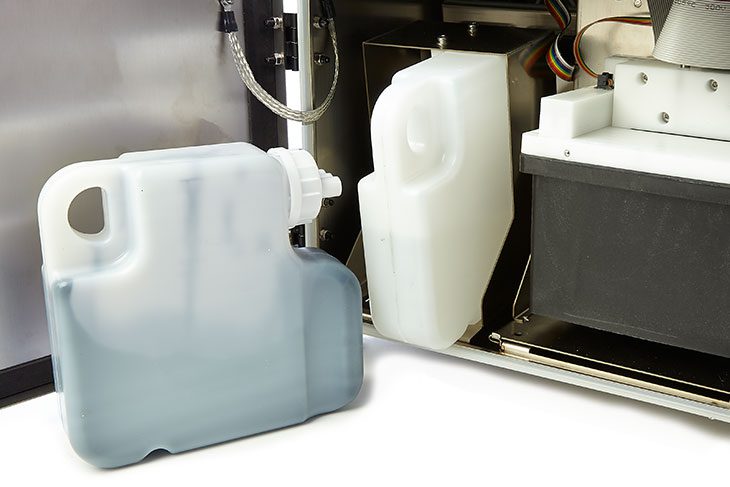 JetStream fluids are packaged in no-mess 750ml containers without the hassle of RFID chips or tags.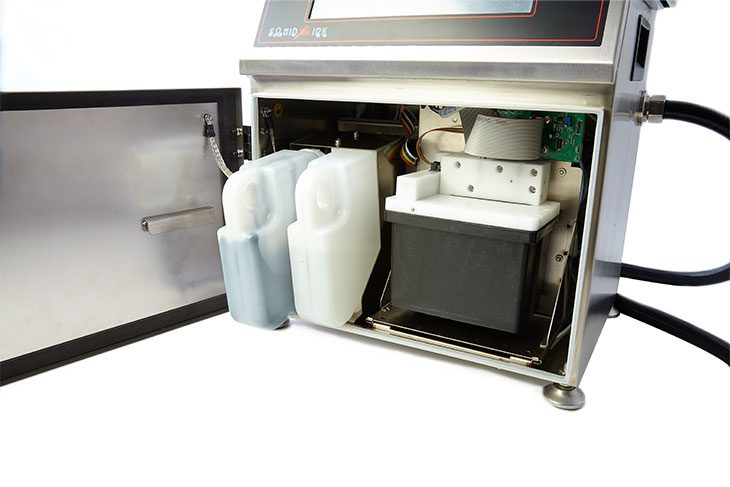 JetStream's entire ink system can slide out for routine maintenance or it can be completely replaced in minutes for annual PMs.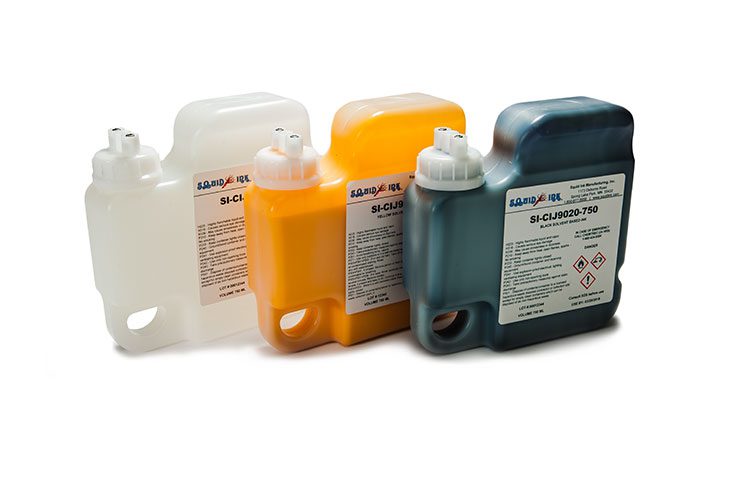 A comprehensive range of MEK, Acetone, or Ethanol-based inks are available for a variety of applications and industries.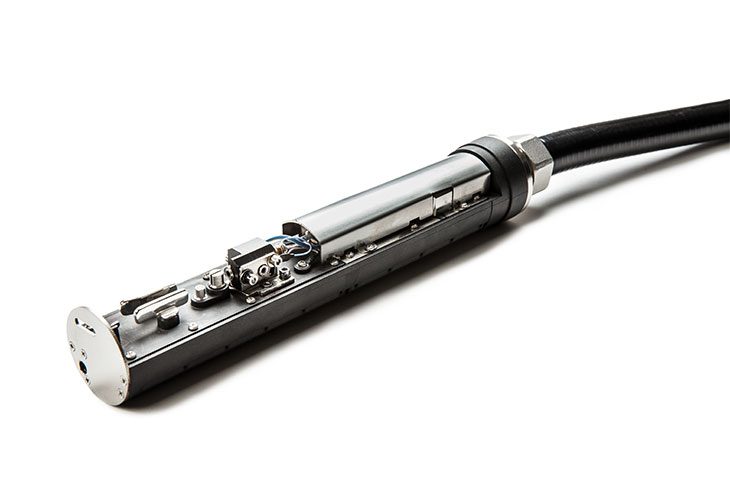 The JetStream printhead features CleanJet™ technology for automatic one button self-cleaning operation.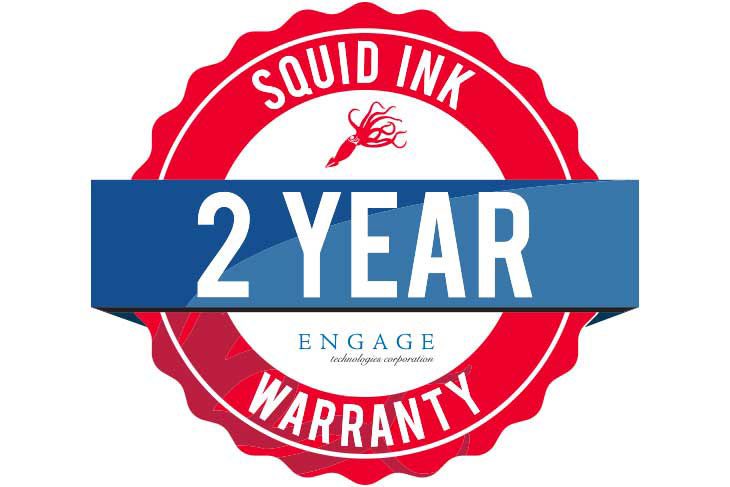 Jetstream CIJ systems feature a Two-Year Warranty
BENEFITS OF THE JETSTREAM
Up to 5 lines of print
Line speeds up to 1000 ft/min
Simple to use 10.1" color touchscreen interface
Automatic start-up and shut-down maximizes uptime
Simple maintenance with quick disconnect replacement components
SYSTEM SPECIFICATIONS
Print Technology – Continuous Ink Jet
Nozzle Size – 60μm nozzle standard
Print Speed – Up to 1,000 feet/minute (305m/min) 5×5 sigle line
Max Print Lines – 5 lines @ 5×5 font, 4 lines @ 7×5 font matrix
Font Matrix Configurations – 5×5, 7×5, 9×7, 12×12, 16×16, 24×24, 32×32
Character Height – 0.07" – 0.59" (1.8mm – 15mm); up to 32 dot high font with single line of text
Throw Distance – Up to 1.2" (30mm) distance from printhead to substrate
Display – 1280×800, 10.1" LCD touchscreen
Message Storage – 8GB
Software Features – Bar codes, graphics, counter, lot counter, shift code, time and date, expiration date
Operating Features – One button print start / stop, control print delay, reverse print, invert print, bold print, auto-start self-clean
CleanJet™ – Quick and easy one button start/stop process for automatic self-cleaning operation
Communication Inputs – Photocell/trigger, encoder, reverse print, BCD select, RS232, reset counter
Communication Outputs – Alarm light (3-color), print ready, warning
Ports – Encoder, photocell, serial and alarm beacon, I/O, network, and USB connections
Printhead – Compact and durable stainless steel design, omni-directional print capability
Printhead Dimensions – 9.25" (23.5cm) long, 1.5" (3.8cm) in diameter
Printhead Cable – Vinyl-covered armored conduit; 9.8' (3m) umbilical length standard; 13.1' (4m) optional
Cabinet Construction – Stainless steel cabinet
Cabinet Dimensions – 19.3" (49cm) H x 14.6" (37cm) W x 12.2" (31cm) D
Electrical Requirements – 90 – 240 VAC, 50/60Hz
Operating Environment – 41°F – 113°F (5°C – 45°C)
Humidity Range – 30 – 95% relative humidity, non-condensing
Weight – 53 lbs. (24kg)
Inks – Comprehensive range of inks for a variety of applications and industry requirements including MEK, Acetone, and Ethanol-base; colors and soft pigment formulations available; no chips or RFID tags to deal with
Warranty – Two year warranty from the date of shipment
OPTIONAL ACCESSORIES
Print Trigger – Optical, fiber optic, ultrasonic, laser, metal proximity, capacitive proximity
Encoder – For operation with variable speed conveyors
Low Ink Light – Alerts users of low ink situations
Mounting Brackets – Fully adjustable printhead floor stand eliminates vibration from conveyor
Stands – Stainless cart with two shelves to hold CIJ cabinet and supplies, includes casters
Printhead Pressurization Kit – Requires plant air
Four-Port USB Hub – Provides 3 additional USB ports
Alarm Beacon – Optional warning light with bracket
Looking for Replacement Ink Jet Inks and Fluids?