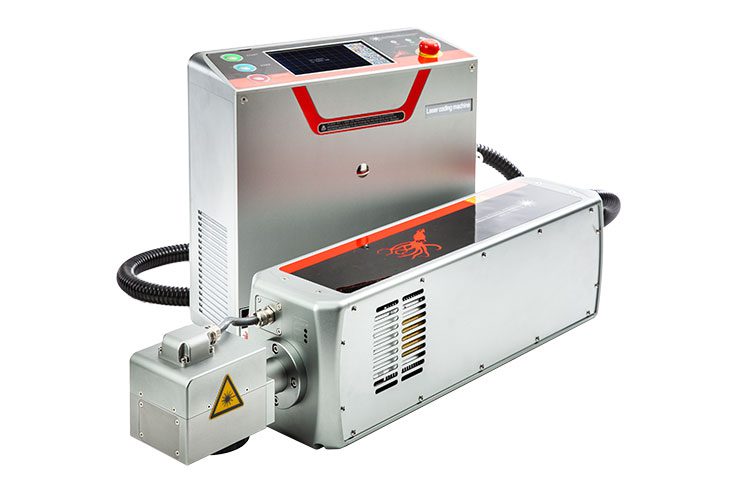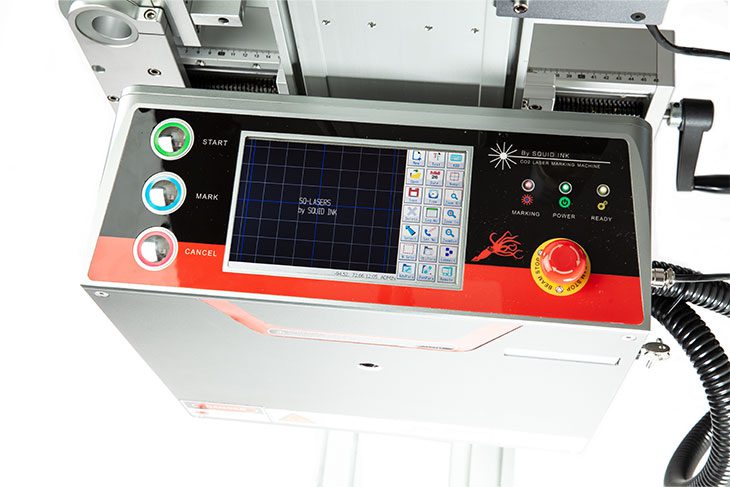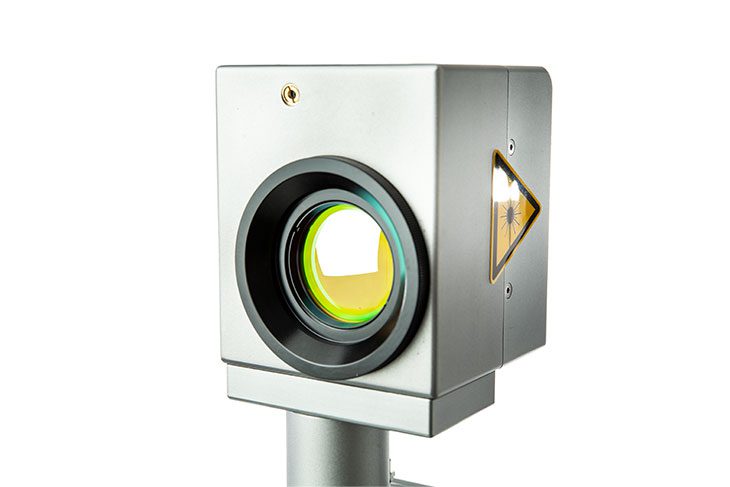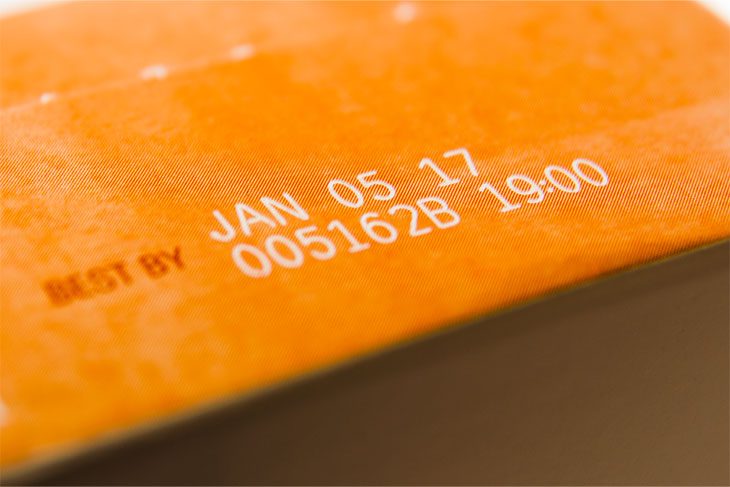 SQ-30
CO2 Laser Coding System
Squid Ink's SQ-30 laser coding systems are designed for high speed food and beverage, pharmaceutical, cosmetic, and other primary coding applications. Squid Ink's CO2 lasers can permanently mark onto paper, cardboard, plastic, glass, wood, coated metal, leather, and more.
Permanent coding of text, time and date, bar codes,
serial numbering and more
Quick and easy installation for both stationary and moving products
Easily fits into production environments where space is limited
Laser head can be rotated 90° in less than 5 minutes
No ink/consumables for lower cost of ownership
Clean and eco-friendly coding system
Rugged cast aluminum controller body
IP54 rating ensures maximum reliability and uptime in demanding applications
Integrated key switch and interlock relay for increased safety on the production floor
High Quality Code Generation
Scribing technology produces non-dot matrix, razor sharp marks on a variety of substrates
Ability to mix different fonts and logos in a single message
Discrete coding ability for anti-counterfeiting and traceability
Ideal coding alternative where CIJ systems are not practical
10.6μm system available for coding PET bottles for the beverage industry
Easy to Start, Simple to Run
All-in-one design for fast installation and line changes
Easy to use touchscreen software built right into controller
Optional 10" touchscreen controller for remote system programming where space is limited
Intuitive system includes focus finder and code area preview window on product during setup; enables initial laser marking setup within minutes
Easily configurable in a variety of angles with optional mobile stand
Optional fume extraction systems available that connect directly to SQ-Laser systems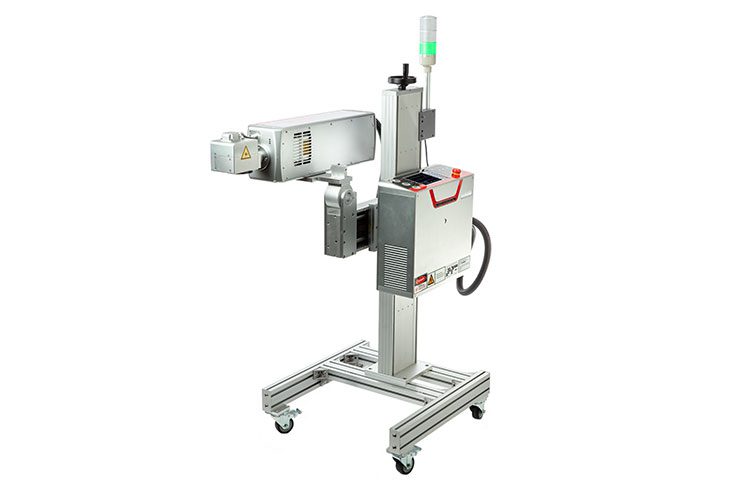 An optional heavy duty stand is available to simplify setup and install the system in a variety of configurations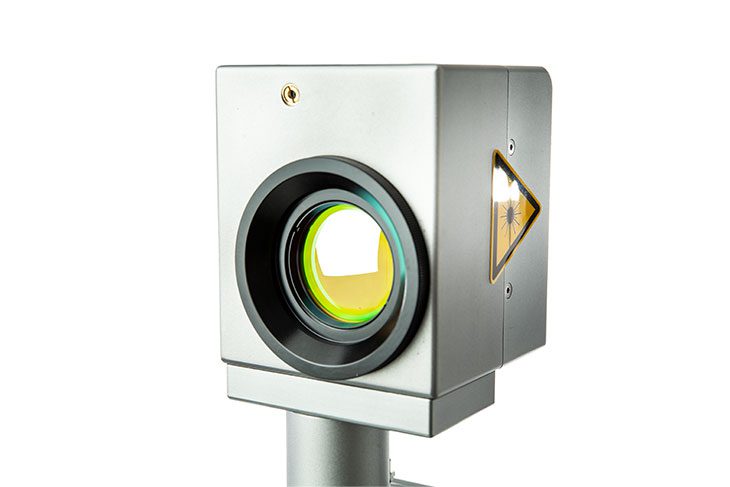 The laser head can be rotated 90 degrees in less than 5 minutes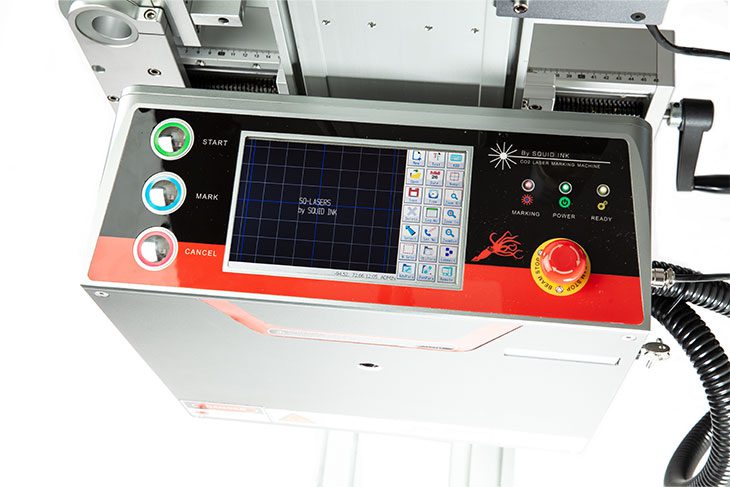 Easy to use touchscreen controller built right into the power supply for system configuration and message programming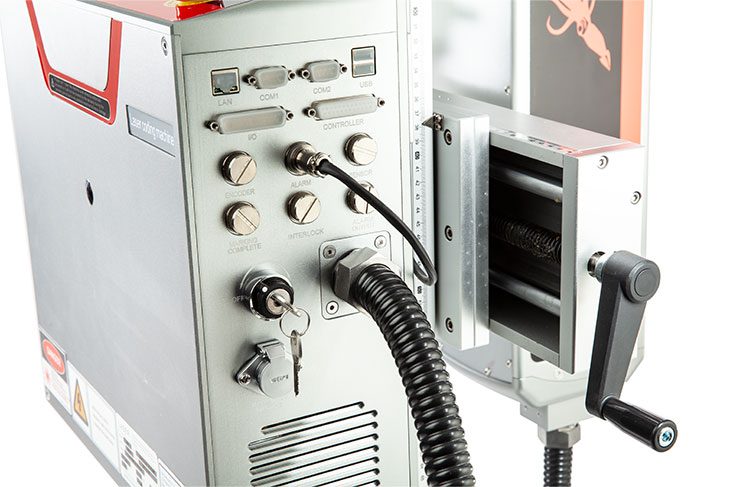 An integrated key switch and interlock relay is included for safety on the production floor.
BENEFITS OF THE SQ-30
CO2 marking system
30W model
9.3μm or 10.6μm model
Static or continuous marking modes
No inks or solvents – environmentally friendly and cost-effective
Marks on paper, cardboard, plastic, glass, wood, coated metal, leather, and more
SYSTEM SPECIFICATIONS
Print Technology – CO2 laser coding system, full sealed RF-excited metal tube
Laser Wavelength – 9.3μm or 10.6μm
Laser Galvanometer – High-precision 2D high-speed scanning galvanometers
Cooling Method – Atmospheric air-cooled
Dust Way – Sealed
Power Consumption – 500W – 1000W (110VAC, 60Hz)
Marking Focal Length – 100mm – 190mm
Position Accuracy– 0.01mm
Minimum Line Width – 0.1mm
Marking Area – 50mm X 50mm – 175mm X 175mm
Assembly Line Speed Support – <120m/min
Marking Speed – 800 – 1000 characters/second
Character Size – Adjustable in marking range
Marking Line Number – Code Rotation – 0 to 360°
Software Features – Counter, lot counter shift code, time and date, expiration date, 2D and linear bar codes
Safety Features – Integrated key switch and interlock relay included for safety on the production floor; customer provided shielding necessary to prevent eye or skin exposure
Operating Languages – English and Chinese
Cabinet Construction – Heavy duty cast aluminum
Cabinet Dimensions – 29" (74cm) L x 6.25" (16cm) W x 7.25" (19cm) H
Power Controller Dimension – 15" (38cm) L x 15" (38cm) W x 6" (15cm) H
Electrical Requirements – 90 – 240VAC, 50/60Hz
Operating Environment – 40°F – 105°F (5°C – 40°C)
Humidity Range – 10 – 90% relative humidity, non-condensing
Packaged Weight – 67 lbs. (30kg)
OPTIONAL ACCESSORIES
Print Trigger – Optical, fiber optic, ultrasonic, laser, metal proximity, capacitive proximity
Encoder – For operation with variable speed conveyors
Mobile Stands – Heavy duty stand with ability to rotate laser controller in any direction and easily raise and lower marking machine by a single operator; includes casters for easy transportation within plant
90 Degree Head Pivot Extension – Mirror assembly that allows marking head to point lens in line with unit axis
Hand Held 10" Touchscreen Controller – Allows complete control of the system when access is limited due to mounting requirements
Laser Fume Extraction Systems – SQ-LFX or SQ-LFX PVC for the proper extraction of laser application fumes
Installation and Training – On-site installation and training available
Looking for Replacement Ink Jet Inks and Fluids?