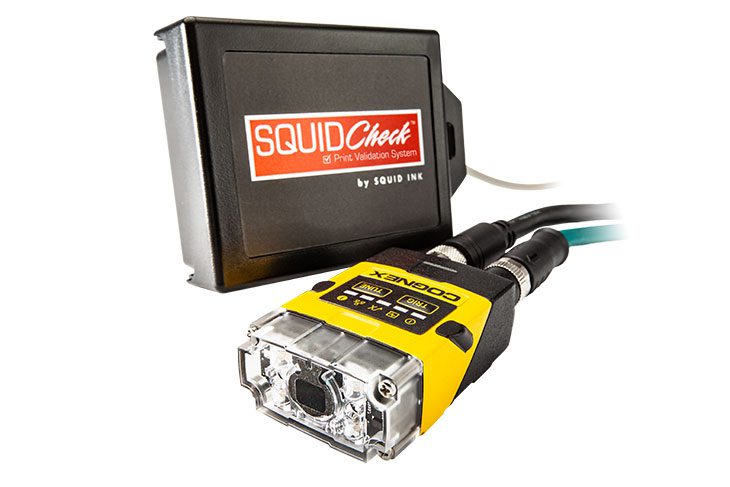 SquidCheck
SquidCheck™ Print and Bar Code Validation System
March 13, 2019, Brooklyn Park, MN – Squid Ink Manufacturing, Inc., a leading manufacturer of superior quality inks and ink jet printing equipment, introduces the SquidCheck print and bar code validation system. SquidCheck offers print and validation of the bar codes printed on manufacturer's cases, trays, pipe, and other products.
SquidCheck utilizes bar code readers from Cognex®, the world's most trusted machine vision and industrial bar code reading company. The reader is integrated with a Squid Ink printer and SquidCheck interface to ensure that codes are present, scannable, and accurate. SquidCheck allows users to automatically take control of their packaging line. Once a code is printed, the reader reads the code while SquidCheck communicates with the printer to confirm that this is the correct code to be printed. Code failures are identified and rejected as desired while SquidCheck safeguards that only correct and properly coded products advance to the next stage of the production line.
Cognex readers offer straight or right-angle scanner configurations to fit into the tightest spaces. Inline and ninety degree configurations eliminate the need for machinery redesign or complicated optical paths with mirrors. SquidCheck's small footprint makes installation a snap and easily integrates with new or existing printing systems within minutes.
The SquidCheck system gathers valuable data on reader and printer performance, and automatically catalogues each code. By analyzing data trends, users can identify issues due to poor printer setup or maintenance and help improve their overall coding performance.
The SquidCheck print validation system is available now through Squid Ink's worldwide network of authorized distributors. Sales inquiries should be directed to Joshua Nelson, Squid Ink Manufacturing, Inc., 7041 Boone Ave. N., Brooklyn Park, MN 55428. 1-800-877-5658. jnelson@squidink.com
Squid Ink operates as a subsidiary of Engage Technologies Corporation, parent company of Squid Ink, Eastey Enterprises, AFM, and Cogent Technologies. Eastey (www.eastey.com) is a leading manufacturer of heavy-duty shrink packaging equipment, automated case sealing systems, and conveyors for packaging applications. American Film & Manufacturing (www.afmsleeves.com) manufactures and supplies shrink sleeves and shrink labeling solutions. Cogent Technologies (www.cogent-tech.com) manufactures infrared drying systems used to dry ink in the industrial and graphics industries.
For press information, please contact:
Joshua Nelson
Squid Ink Manufacturing, Inc.
(763) 795-8856, ext. 1735
jnelson@squidink.com
Photos available via e-mail – please e-mail jnelson@squidink.com for details.