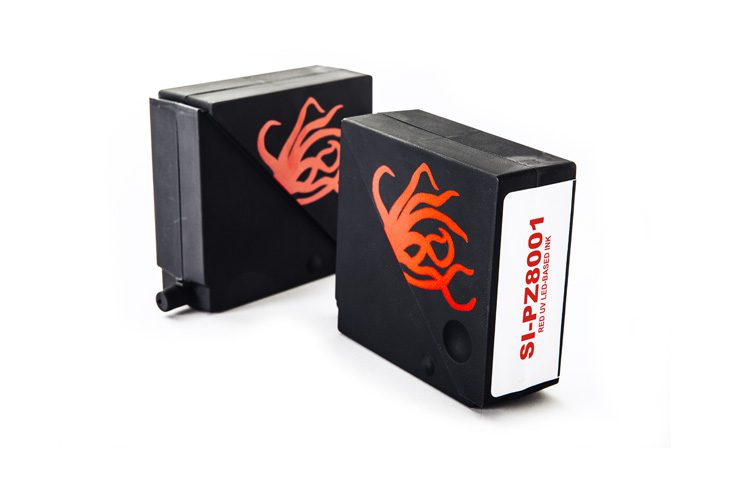 SI-PZ8001 Red UV LED Ink
Squid Ink Develops Red UV LED Curable Ink
January 25, 2019, Brooklyn Park, MN – Squid Ink Manufacturing, Inc., a leading manufacturer of superior quality inks and ink jet printing equipment, announces the addition of SI-PZ8001 UV LED Red ink to the always growing Squid Ink fluids family. UV LED curable red ink is approved for use in current Squid Ink CoPilot, CoPilot 128, and CoPilot 256 printing systems and used in conjunction with the Squid UV LED Curing System.
SI-PZ8001 is scarlet red in color and has been formulated for printing on a variety of non-porous surfaces such as coated corrugate, plastic, glass, metal, and more. It performs exceptionally well on PVC, styrene, polyethylene, polypropylene, and ABS type plastics as well. Squid Ink's UV LED series inks feature near immediate cure times and are specifically designed for printing on non-porous substrates.
UV LED series inks do not cure without assistance of UV light and require minimal maintenance, resulting in an ideal solution for manufactures looking to mark their non-porous products. SI-PZ8001 also has superior lightfast properties to reduce fading over time. Designed for permanent marking, SIPZ8001 provides excellent rub resistance perfect for most non-porous applications.
Users now have 3 color choices for UV LED curing applications – black, red, and opaque white. Squid
Ink UV LED inks are available in 200ml cartridges and 500ml opaque bags. All Squid Ink fluid
containers are designed to provide near 100% ink utilization.
SI-PZ8001 is available now through Squid Ink's worldwide network of authorized distributors. Sales inquiries should be directed to Joshua Nelson, Squid Ink Manufacturing, Inc., 7041 Boone Ave. N., Brooklyn Park, MN 55428. 1-800-877-5658. jnelson@squidink.com
Squid Ink operates as a subsidiary of Engage Technologies Corporation, parent company of Squid Ink, Eastey Enterprises, AFM, and Cogent Technologies. Eastey (www.eastey.com) is a leading manufacturer of heavy-duty shrink packaging equipment, automated case sealing systems, and conveyors for packaging applications. American Film & Manufacturing (www.afmsleeves.com) manufactures and supplies shrink sleeves and shrink labeling solutions. Cogent Technologies (www.cogent-tech.com) manufactures infrared drying systems used to dry ink in the industrial and graphics industries.
For press information, please contact:
Joshua Nelson
Squid Ink Manufacturing, Inc.
(763) 795-8856, ext. 1735
jnelson@squidink.com
Photos available via e-mail – please e-mail jnelson@squidink.com for details.