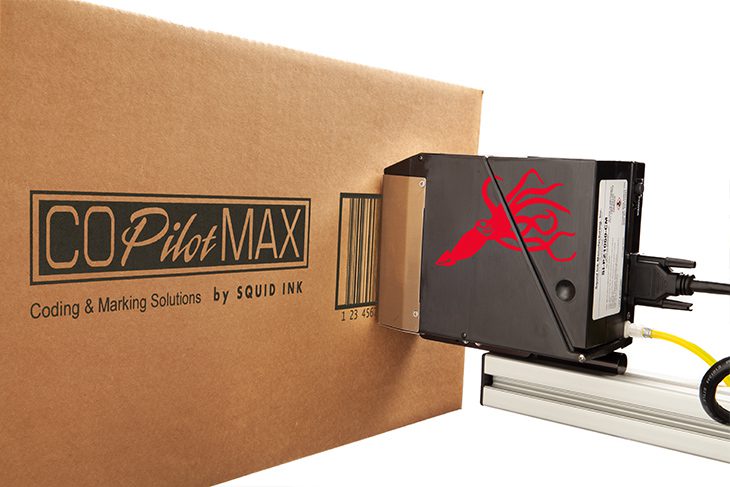 CoPilot Max
CoPilot® Max 360 DPI Printer With Active Ink System
October 1, 2019, Brooklyn Park, MN – Squid Ink Manufacturing, Inc., a leading manufacturer of coding and marking systems for product identification and traceability, introduces the CoPilot Max printing system designed to print superior quality hi-resolution characters on porous surfaces. With up to 2.8" of print height per printhead and the ability to run up to 2 printheads from one controller, the CoPilot Max offers a versatile, yet cost effective solution for coding and marking applications.
The CoPilot Max utilizes Squid Ink's revolutionary active ink system, allowing users the ability to raise, lower, tilt, or rotate the printhead without making height adjustments to the ink supply. The system prints hi-resolution characters, razor-sharp text, scannable bar codes and great looking logos at 360 dpi, nearly twice the resolution of competitive printers in it's class. Squid Ink's proven library of inks for porous substrates offers ultra-low maintenance performance, eliminating the need for auto-priming functions and offering better ink utilization than competitive systems.
The printer features a durable touchscreen, industrial strength printhead construction, and simple active ink delivery. The CoPilot Max also features a large 500ml no-mess snap-in cartridge, allowing users the ability to swap ink cartridges in a matter of seconds. The generous ink volume, quick-change ink cartridge, and user-friendly touchscreen design allows users to keep their line running, reducing downtime and maximizing ROI.
The CoPilot Max features a full color touchscreen that allows users to access to the system's internal messages and print functions. Messages are created and edited on Squid Ink's easy- to-use OrionTM PC Software and transferred via USB, ethernet, wireless, or optional Windows® tablet. The tablet is ideal for users who want message creation and editing functionality on the production floor. For larger applications, an unlimited number of CoPilot Max printing systems can be connected via ethernet or wireless network and controlled through one central Orion PC.
The CoPilot Max is available now through Squid Ink's worldwide network of authorized distributors. Sales inquiries should be directed to Joshua Nelson, Squid Ink Manufacturing, Inc., 7041 Boone Ave. N., Brooklyn Park, MN 55428. 1-800-877-5658.. jnelson@squidink.com
Squid Ink, Eastey, American Film & Machinery (AFM) and Cogent Technologies are all divisions of Engage Technologies Corporation. Squid Ink (squidink.com) is a manufacturer of coding and marking systems for product identification and traceability, providing superior quality inks and low maintenance printing equipment. Eastey (eastey.com) is a leading manufacturer of heavy-duty shrink packaging equipment and automated case sealing systems for packaging applications. American Film & Machinery (afmsleeves.com) supplies shrink labelers and tunnels, shrink sleeves, and tamper bands. Cogent Technologies (cogent-tech.com) manufactures infrared drying systems used to dry ink in the industrial and graphics industries.
Engage Technologies Corporation is headquartered in Brooklyn Park, MN with facilities in Rogers, MN, Spring Lake Park, MN, The Hague, Netherlands, and Shanghai, China. The Company continues to expand sales and services, with authorized distributors strategically located throughout the U.S. and the rest of the world.
For press information, please contact:
Joshua Nelson
Squid Ink Manufacturing, Inc.
(763) 795-8856, ext. 1735
jnelson@squidink.com
Photos available via e-mail – please e-mail jnelson@squidink.com for details.