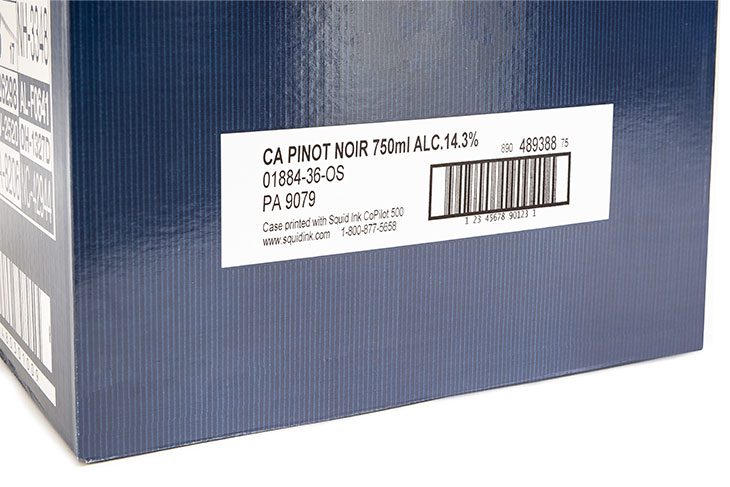 CoPilot 500 Solvent-Based
CoPilot 500 Turbo Solvent-Based Printing System
March 01, 2019, Brooklyn Park, MN – Squid Ink Manufacturing, Inc., a leading manufacturer of superior quality inks and ink jet printing equipment, introduces the new solvent-based CoPilot® 500 Inkjet Printing System. Squid Ink's solvent-based CoPilot 500 Turbo printing system is designed to print superior quality hi-resolution characters on non-porous surfaces such as coated corrugate, polystyrene and more. With up to 2.8" print height per printhead and the ability to run up to two printheads from one controller, the CoPilot 500 Turbo offers a versatile, yet cost-effective solution for coding, marking, and product identification.
The CoPilot 500 Turbo can be ordered to run either oil-based or solvent-based inks to print up to 5.6" (2.8" from a single head) of hi-resolution characters, razor-sharp text, scannable bar codes, and great looking logos at 205 dpi. Solvent-based capability opens new doors for customers with requirements to print on coated, glossy, or polystyrene substrates. For manufacturers looking for more printer mounting flexibility, the CoPilot 500 Turbo printhead can be configured in multiple positions including horizontal, down shooting, and side shooting.
The system's 4.3"full-color touchscreen provides access to the system's internal messages and print functions. Messages are created and edited on Squid Ink's easy-to-use Orion™ PC Software and transferred via Ethernet or USB device. For larger applications, a virtually unlimited number of CoPilot 500 Turbo printing systems can be connected wirelessly or via Ethernet and controlled through one central Orion print station. For users on-the-go, Squid Ink offers a 10" full-color Windows® tablet with Orion software, ideal for mobile programming within the facility.
"The CoPilot 500 Turbo is an ideal solution for manufacturers that need larger print on their products," said David R. Mylrea, President and CEO of Engage Technologies Corporation. "Now with the ability to print on both porous and non-porous surfaces, the CoPilot allows customers to print what they need, where they need it."
The solvent-based CoPilot 500 Turbo is available now through Squid Ink's worldwide network of authorized distributors. Sales inquiries should be directed to Joshua Nelson, Squid Ink Manufacturing, Inc., 7041 Boone Ave. N., Brooklyn Park, MN 55428. 1-800-877-5658. jnelson@squidink.com
Squid Ink operates as a subsidiary of Engage Technologies Corporation, parent company of Squid Ink, Eastey Enterprises, AFM, and Cogent Technologies. Eastey (www.eastey.com) is a leading manufacturer of heavy-duty shrink packaging equipment, automated case sealing systems, and conveyors for packaging applications. American Film & Manufacturing (www.afmsleeves.com) manufactures and supplies shrink sleeves and shrink labeling solutions. Cogent Technologies (www.cogent-tech.com) manufactures infrared drying systems used to dry ink in the industrial and graphics industries.
For press information, please contact:
Joshua Nelson
Squid Ink Manufacturing, Inc.
(763) 795-8856, ext. 1735
jnelson@squidink.com
Photos available via e-mail – please e-mail jnelson@squidink.com for details.