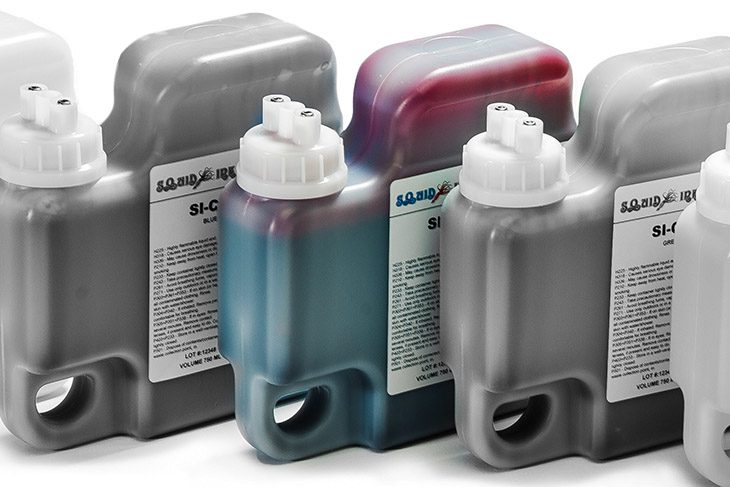 CIJ Food Grade Ink
New Food Grade Ink for Continuous Ink Jet Printing Systems
April 1, 2020, Brooklyn Park, MN – Squid Ink Manufacturing, Inc., a leading manufacturer of coding and marking systems for product identification and traceability, introduces the addition of a food grade ink to the growing Squid Ink fluids family. SI-CIJ9351 Food Grade Red Ink is approved for use in Squid Ink's Streamline® 5 and JetStream™ CIJ printers and is ideal for use in facilities that require food grade ink.
SI-CIJ9351 food grade ink is designed for printing quality codes directly onto food products, such as eggs, cheese, and other edible products, and works well for applications where the food package may not create an effective barrier against ink migration. SI-CIJ9351 complies with all FDA guidelines and is manufactured under Good Manufacturing Practice (GMP) specifications.
Squid Ink's food-grade ink utilizes the same simple quick-change cartridges as existing Squid Ink CIJ fluids. Clean cartridges of ink and make-up can be replaced in seconds without having to stop production. In addition, no chips or RFID tags are used to lock users into a fluids hostage situation with the printer manufacturer. As a proven ink manufacturer, Squid Ink offers a comprehensive range of inks for a variety of applications and industry requirements.
About the Streamline 5 and JetStream Printers
Squid Ink's Streamline 5 and JetStream continuous inkjet printers are designed to provide reliability at an affordable price. Printing up to 5 lines of superior quality small characters on a variety of substrates: porous, non-porous, smooth, textured, curved, concave and more, Squid Ink's family of CIJ printers offer a reliable, cost effective solution for virtually any small character, primary package coding application.
SI-CIJ9351 ink, Streamline 5, and Jetstream are available now through Squid Ink's worldwide network of authorized distributors. Sales inquiries should be directed to Joshua Nelson, Squid Ink Manufacturing, Inc., 7041 Boone Ave. N., Brooklyn Park, MN 55428. 1-800-877-5658. jnelson@squidink.com
Squid Ink, Eastey, American Film & Machinery (AFM) and Cogent Technologies are all divisions of Engage Technologies Corporation. Squid Ink (squidink.com) is a manufacturer of coding and marking systems for product identification and traceability, providing superior quality inks and low maintenance printing equipment. Eastey (eastey.com) is a leading manufacturer of heavy-duty shrink packaging equipment and automated case sealing systems for packaging applications. American Film & Machinery (afmsleeves.com) supplies shrink labelers and tunnels, shrink sleeves, and tamper evident bands. Cogent Technologies (cogent-tech.com) manufactures infrared drying systems used to dry ink in the industrial and graphics industries.
Engage Technologies Corporation is headquartered in Brooklyn Park, MN with facilities in Rogers, MN, Spring Lake Park, MN, The Hague, Netherlands, and Shanghai, China. The Company continues to expand sales and services, with authorized distributors strategically located throughout the U.S. and the rest of the world.
For press information, please contact:
Joshua Nelson
Squid Ink Manufacturing, Inc.
(763) 795-8856, ext. 1735
jnelson@squidink.com
Photos available via e-mail – please e-mail jnelson@squidink.com for details.